Poll
Loading ...
Prepaid Podcast, August 2009 – Episode 11
posted by Joe on August 31st, 2009 - 11:42 am | Prepaid Podcast
We're back with another edition of the Prepaid Podcast. This month we're talking about some recent industry moves. The main focus is on T-Mobile, which continues to add prepaid customers at a far greater rate than postpaid ones. They might have some tough decisions to make after this year closes out if the trend continues. Suspiciously, they've actually taken away from their prepaid services lately, which seems like an odd move considering the timing. We'll see how that bears out in the future.
So click on over to hear the Prepaid Podcast.
And don't forget to subscribe to the podcast so you won't miss any future episodes. You can also subscribe to the podcast on iTunes.
Highlights include: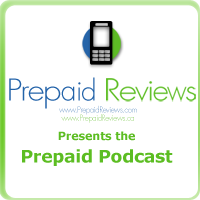 Of course, there's more going on than just T-Mobile. We've forever heard about MetroPCS and Cricket merging into one company. Their disadvantage is that they don't have a nationwide network right now, and while they still wouldn't upon combining, they'd be much, much closer. We could hear this talk pick up once Cricket finishes rolling out the remainder of their AWS markets.
Also, we saw a few new prepaid unlimited plans rolled out. Ready Mobile introduced theirs in July, and then were followed by Page Plus, PlatinumTel, and Total Call Mobile. Pretty soon all of our pay as you go cell phone carriers will likely have some sort unlimited plan before long.