Poll
Loading ...
Verizon launching self-branded CDM8950 on INpulse
posted by Joe on November 28th, 2008 - 8:36 am | Prepaid Phones
It's always nice when we get a new Verizon INpulse phone, since they don't have a wide selection. The latest addition, which should hit shelves on December 3, is the CDM8950, a self-branded clamshell. It's really nothing special, though it does feature EVDO, meaning you can get VZW services like VZ Navigator. Oh, and a 1.3 megapixel camera. Pic after the jump.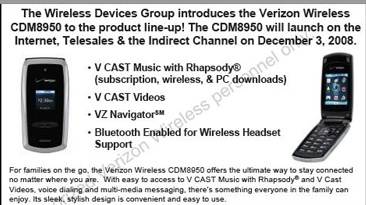 The device will cost $99.99 on prepaid after a mail-in rebate. Not bad, though some might consider it a lot for a very basic phone.