Poll
Loading ...
The Top Five HTC Prepaid Phones
posted by Pamela Wilcox on February 8th, 2012 - 11:35 am | Prepaid Phones
HTC phones are quickly becoming user favorites in the cell phone marketplace. Offered by every major mobile carrier, each HTC phone is designed for a different type of user. So whether you prefer your phone for gaming, working, or playing, HTC has what you're looking for. And if you want to do these things on an affordable prepaid plan, here are your best bets:
HTC Wildfire S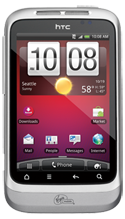 The HTC Wildfire S is unquestionably the best go-to phone for those preferring to keep track of their phone budget with a prepaid mobile plan. This sleek device runs on the latest Android platform, so you have instant access to thousands of apps on the Android Market.

The Wildfire S also features a 3.2-inch touchscreen and five-megapixel camera for capturing important moments. One of the lightest, stylish, and most fun smartphones, the HTC Wildfire S is perfect for anyone who loves the freedom of searching the web from their phone – without the commitment of a long-term contract (available via Virgin Mobile).
HTC Status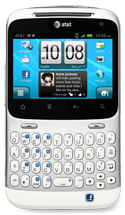 The HTC Status is a shortcut to the connections you crave. Basically, it's everything a social network junkie wants in a phone. The Status (undoubtedly inspired by the "Facebook status") allows you to instantly share priceless photos and videos to Facebook with the touch of a button. Literally. The phone comes with a branded Facebook share button underneath its QWERTY keyboard.
Whenever you make or receive a call, your friend's profile picture and most recent status update will appear on the call screen. And if it's their birthday that week, you'll see that, too. The five-megapixel camera comes loaded with effects to make your photos look like they've been taken through special lenses and filters before sharing to Facebook. And with front and rear facing cameras, you can take self-portraits and photos with friends without the guesswork (available via AT&T prepaid plans).
HTC HD7S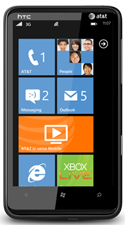 The HTC HD7S is great for taking care of business, keeping up with friends, or catching up on your latest show. Without leaning too much to much toward any particular "specialty," the HD7S gives you everything you need to manage your personal and professional life on a big, impressive screen. The home screen allows you to balance everything, with a Hub for keeping tabs on any area – kind of like picture-in-picture for your phone.
Because it's a Microsoft Windows phone, you're equipped with Outlook Mobile for any email needs, along with all the other perks Microsoft offers. And it all comes together in one slim design so you can get the job done and get on with life (also available via AT&T).
HTC Freestyle GoPhone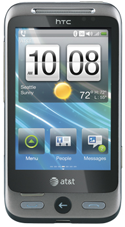 The HTC Freestyle AT&T GoPhone is simple and user friendly, but won't captivate you with any impressive features. This is a great option for anyone who wants the essential communication features a phone offers without any of the frills of a smartphone, including Internet connection. It's inexpensive, and because it's available as a prepaid phone, it won't break the bank each month. As you'd expect from a relatively basic phone, the Freestyle's address book keeps contacts organized with up to three phone numbers per contact, email address, street address, birthday, notepad, and URL options.
In addition, the phone includes a calendar, text and multimedia messaging, a calculator, and an alarm clock, and quite a few other handy features can be downloaded from AT&T's AppCenter. Again, this isn't one of those phones with all the bells and whistles, but it definitely has what it takes to get the job done (unless the job requires a Wi-Fi connection).
HTC Desire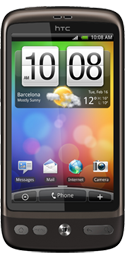 If you're in the market for a T-Mobile HTC prepaid phone, you might want to do a little research before jumping in. T-Mobile doesn't have HTC phones directly available as a prepaid option through their website, but certain "unlocked" HTC phones are compatible with T-Mobile and can be used with a prepaid plan. Again, check with a local T-Mobile store or inquire online before making a purchase. If everything checks out, the HTC Desire (also available on US Cellular) is a great smartphone that's works on the T-Mobile network.
This phone delivers intense brilliance, sharp contrast, and true colors on the expansive 3.7-inch display. This phone is designed to keep you connected by simplifying your social networks into its Friend Stream, which consolidates your interaction with friends across multiple social networks like Facebook, Twitter, and Flickr and brings them into a single easy-to-follow stream of updates, photo posts, and shared links.