Poll
Loading ...
The best in Samsung prepaid phones
posted by Joe on February 20th, 2008 - 11:30 am | Prepaid Phones
The year 2007 was a milestone for Samsung. Long a small player in the mobile phone industry, they surpassed Motorola to become the world's No. 2 handset maker. This was on the strength of their growing almost four times faster than the market as a whole. They're still a long shot from No. 1 Nokia — In fact Nokia shipped more handsets in the fourth quarter than Samsung, Motorola, and Sony Ericsson combined. So Samsung should enjoy its spot at No. 2. And to celebrate Samsung's rise to prominence, we're going to go through our prepaid phone providers to see which Samsung models they offer.

Alltel
Alltel has the Samsung r200, a very, very old model. However, it comes at the attractive price of 99 cents, which is a rarity in the prepaid industry. It's simple and d the point — reminiscent of the Nokia models that were widely popular in the early 2000s. Beyond that, they've got the Hue, a more functional phone. It sports a 1.3 mexapixel camera, BlueTooth, GPS capabilities, as well as an expandable memory slot. It checks in at $59.99, so it's still a good prepaid value.
AT&T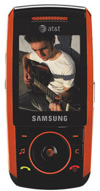 When you shop for prepaid phones from a major provider, oftentimes you'll find older and refurbished models. This is basically what AT&T carries for Samsung. They have the A117, a very basic flip with basically no extra features — but it only costs $20. You can get a camera phone in the A437 for just $10 more. The A127 is also available, which is basically the same thing as the 437, minus Bluetooth. The best Samsung they carry is the A737, which has a 1.3 MP camera, Bluetooth, and a multimedia player. It can be had, refurbished, for $100. As a general rule, it's better to get refurbs from AT&T; they'll cost you roughly $50 less than new ones.
Cricket
You'll notice that Cricket's phones are a bit more expensive than the same or similar models at major carriers. It's part of signing up for a regional carrier, I suppose. Their selection is good, but the prices certainly can be beat. First on the list is the Samsung Siren, selling for $159.99. It has a VGA camera and Bluetooth. After that it's the r500, complete with multimedia player, 1.3 MP camera, Bluetooth, browser, and microSD. It'll run you just $40 more than the Siren, and from the looks of the features it sounds worth it.
kajeet
The only phone kajeet features by Samsung is the m300. It's not great, but it's not a bad phone by any means. Actually, it might be a perfect model for a kid, since it's not all that expensive at $59.99 during kajeet's winter sale. So they can break it, and it's not that big a deal. Plus, it has all the messaging and web browsing capabilities a kid will need, short of a PDA.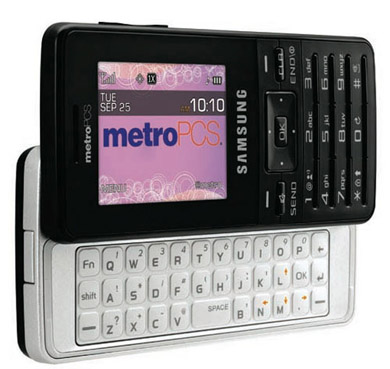 MetroPCS
Metro features phone from Samsung's r-series, starting with the r300, one of their more basic models. It's a flip with a small color screen. Very basic, no flashy extras. After that it's the r400, which is a neat-looking slider. It's go Bluetooth and a VGA camera. And finally they have the r410, which is a spin-off of its predecessor. Instead of being a slider, it's a candybar that flips open to reveal a full QWERTY keyboard, kind of like the LG enV. These phones aren't cheap, though. The r300 checks in at $109, and the 410s run $199.
Page Plus
For $49.99, you could do a lot worse than the Samsung A670 from Page Plus. It looks very basic from the outside, and, well, that's not too misleading. It's a bit disappointing in a way, though, that you can record up to 12 seconds of video with its VGA camera, but it's not equipped for MMS. It's a refurb, too, tough I'm seeing that as less and less of a turnoff.
STi
As with Page Plus, STi only offers one Samsung model, the A820. It's cheap at $25 — if you buy $100 of airtime. It's got web browsing capabilities, but like the 670, no MMS. And no real ringtones — you're confined to the polyphonic type (which is probably true for most of the older Samsung models). The difference with the 820 is that it has Press & Talk capabilities…though you'll have to get the service for that through STi.
SunCom
I expected SunCom to carry a few more Samsungs, since they do have quite a selection. Alas, it's just the A436 — though it comes in two colors. It's a flip style, with text and MMS capabilities, Bluetooth, and real ringtones. It'll cost you $199.99 on prepaid, though, so I imagine there are better deals out there.
T-Mobile
Like it's new subsidiary SunCom, T-Mobile carries just two Samsung models on the prepaid end: The t219 and the Black Stripe. The t219 looks suspiciously like the t219 — a very basic clamshell that has little to no special features. It's got text message an IMing, but no camera, no Bluetooth. The Black Stripe features real ringtones, Bluetooth, a VGA camera, and all the IMing and texting features from the t219. You'll be paying $40 for the upgrade: $49.99 for the 219 and $89.99 for the Stripe.
U.S. Cellular
Regional carrier U.S. Cellular opens things up with the Samsung u340, a very basic camera phone. Like most U.S. Cellular phones, it runs a bit expensive on prepaid: $109.99 if you're not looking for a 24-month commitment. The continue the u-series with the u520, which is along the same lines as the 340, except it has a 1.3 megapixel camera, among other upgrades. The price is upgraded, too, to $159.99. Then it's the r500, which is the same as the model described above for Cricket. And finally they've got the R610, a Bluetooth slider with a 1.3 megapixel camera and removable memory. I actually looked into buying one of these recently, and I gotta say that it's a nifty device. What held me back was that the slider seems a bit flimsy. My phone lives in my pocket, so I can't have that. Oh, and it'll run you $209.99.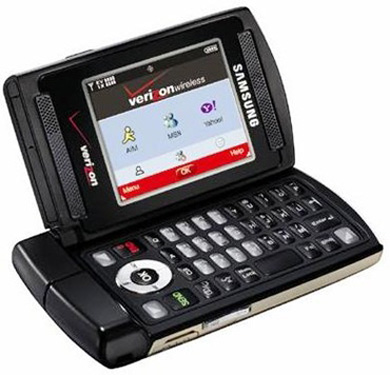 Verizon
With most major carriers, you can nab any of their normal phones for their prepaid service, but you've gotta pay full retail price. Verizon offers a few Samsungs for their prepaid, but they're not the ultra-high-end phones you'll find in their postpaid segment. They offer the u340, like U.S. cellular. But for $20 cheaper, you can nab the a870, which features a color display, Bluetooth, and mobile web, which the u340 does not. After that, it's $164.99 for the u740, the double-flip phone. I see this one everywhere, and I can understand why. It's simple, kinda like the RAZR, but you also get a QWERTY keyboard in the deal, which makes Verizon's mobile web far easier to navigate.
Extreme Mobile
Our final entrant in the Samsung prepaid feature is Xtreme Mobile, who carries but one Samsung model: the A740. It's a lot like the other basic models above, in that it has a VGA camera and the basic features you'd expect. But it's nothing special. Thankfully, it doesn't have to be.
On a closing note, after researching and typing this article, it's become clear that most prepaid providers don't carry the higher-end Samsung models. I have to figure this is a price issue. The mid-range handsets already run over $100 on prepaid, so it's possible that carriers see little sense in carrying a high-end Samsung phone and selling it for near $300.
This doesn't mean, though, that you won't get quality prepaid phones from Samsung. In fact, it's not like that at all. The reason we took the time to research these Samsung phones is because they're so high quality — they're not No. 2 in the world for nothing, after all.

Related Posts

4 Responses
Leave a Reply
Featured Provider
Net 10 Prepaid

Our Rating