Poll
Loading ...
Sprint releases cheap, full-feature phone
posted by Joe on October 12th, 2007 - 11:00 am | Prepaid Phones, Sprint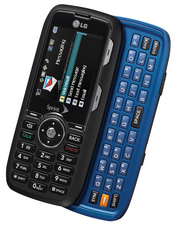 We never thought we'd see the day: A phone with a full keyboard and decent-sized screen for under $100. But LG has developed one, and Sprint has picked it up. It's the Rumor by LG, and we think it's going to sell like hotcakes. It's basically the Sidekick Lite…only a whole boatload cheaper. And if there's one thing we like in the telecom industry, it's cheap phones. Yeah, it'll cost you a two-year contract, but what won't these days?

With your mobile web subscription, you'll get access to AOL Instant Messenger, MSN Messenger, and Yahoo Messenger. Plus you get e-mail through Sprint's own mobile e-mail service, plus easy access to Yahoo, AOL, Gmail, and MSN mail.
Additionally, Sprint will offer messaging options on the Rumor that go beyond text. Voice SMS, for example, will allow a subscriber record a voice message on the Rumor and send it to any mobile phone, e-mail address, or landline phone like a text message. With Sprint's text-to-landline service, subscribers can send a text message to a landline phone and it will be converted to a voice message.
So basically this is a messaging haven. It's going to go over real well with the kids, though that's not necessarily a good thing. They already don't pay attention enough in school, and adding a phone like this will only make their text messaging habits worse.
It has all the other basics of a modern phone: 1.3 MP camera, Bluetooh, MP3, GPS, and microSD expandable memory. This leaves us wondering why it's under $100? We think we're totally in for this.