Poll
Loading ...
New ZTE C90 passes through FCC
posted by Joe on May 13th, 2009 - 7:40 am | Prepaid Phones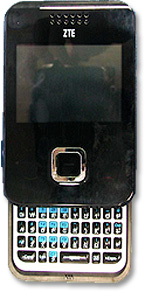 Remember when we learned that ZTE and MetroPCS would team up for LTE phones? Yeah, this is not that. It's just the ZTE C90, which just passed through the FCC. As you can see, it's a full QWERTY model, which should make heavy text messagers happy. It also has microSD support for up to 2GB, GPS, 1.3 megapixel camera, media player, and Bluetooth. It runs on hte AWS spectrum, so figure this to be another for MetroPCS, the only place we've really seen ZTE phones in the U.S.

Related Posts

Leave a Reply
Featured Provider
Net 10 Prepaid

Our Rating