Poll
Loading ...
New company brings unlocked, cheap phones to prepaid
posted by Joe on October 6th, 2009 - 7:30 am | Prepaid Phones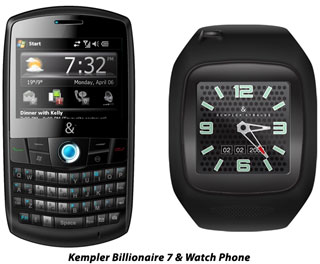 The CTIA I.T. & Entertainment conference is upon us, and from it we're going to hear reports of new devices and services. Among them is Kempler & Strauss, which is producing unlocked, advanced handsets targeted at the prepaid space. Wireless Week takes a look at the operation. Pictured above is the Billionaire 7, a BlackBerry-like device with a full QWERTY keyboard and a touch screen. Next to is is the company's take on a watch phone, something attempted in the past by many but successfully marketed by none. The device looks pretty loaded and pretty cheap. Details after the jump.
Not only does the device feature the vaunted QWERTY + touchscreen combo, but it's a pretty powerful one. The processor clocks in at 624 MHz and can multitask. There is not just one camera, but two, one located on the front for video conferencing. Despite the advanced features, the Billionaire 7 figures to retail for just $299, without a contract.
Just a couple of issues with the device. First, it's a quad-band GSM phone, meaning it can only run on AT&T or T-Mobile in the US. Neither company offers an attractive prepaid data option. The device will also run Windows Mobile, which, considering the price, seems an odd choice. Why not go with Android and save the licensing costs?

Related Posts

Leave a Reply
Featured Provider
Net 10 Prepaid

Our Rating