Poll
Loading ...
Huawei Android phone could be headed for prepaid
posted by Joe on September 3rd, 2010 - 7:30 am | Prepaid Phones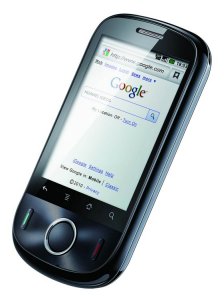 Above is the Huawei IDEOS, an Android-driven device that will hit markets in Europe, Asia, and the Americas. The GSM bands make it look like a fit for AT&T, though it could be a postpaid offering there. The tri-band CDMA radio, however, suggests a launch with an AWS carrier, meaning Cricket and MetroPCS. It looks like a pretty heavy duty handset, featuring Android 2.2 (a/k/a Froyo), GPS, Wi-Fi, microSD expansion, and more. In other words, it figures to top the Kyocera Rio. There is no word on availability, and even the pricing, said by Huawei to be between $127 and $179, doesn't seem appropriate for prepaid.
Mobile Burn via Phone Scoop.