Poll
Loading ...
Five carriers, five different RAZR2s
posted by Joe on August 20th, 2007 - 9:00 am | Prepaid Phones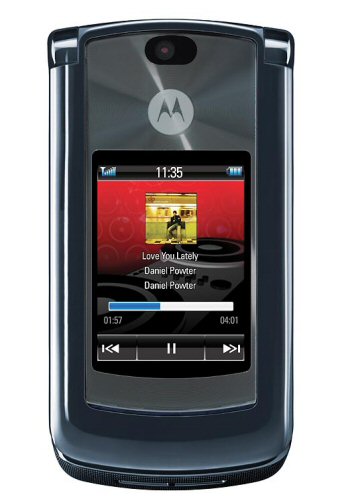 We'll admit that we're pretty psyched about the Motorola RAZR2. Motorola is set to regress to the No. 3 handset maker in the world (thanks to Samsung), so we just know they put everything into this, their flagship phone, to bring them back into a solid No. 2. Thankfully for us, Sascha Segan of PC Magazine has the scoop on the phone — or should we say five phones, since the models seem to vary from carrier to carrier.

The universal facts: it's got a 240 MHz processor (so it's faster than most early Pentium processors, if you remember back that far), 100 MB of flash memory, a 2 megapixel camera, and according to Segan, the "most beautiful external screen you've ever seen on a flip phone." Too bad not all of the carriers opted to utilize this flip-phone innovation.
Verizon, AT&T, T-Mobile, and Alltel subscribers can't use the external screen for video — that's a Sprint exclusive. Alltel is the only one that lets you view the content of text messages without flipping the phone open. And if you want to take self portraits using the external screen, you'll have to be on Verizon or Sprint, because it doesn't work with the others.
Another innovation of the RAZR2 is CrystalTalk, which functions like noise-canceling headphones. It uses the built-in mic to optimize the sound — including volume level — while you talk. Even further, it turns down background noise entering the talk piece, meaning the person on the other end hears you more clearly. Yet, this feature is only available with AT&T and T-Mobile — and it has nothing to do with GSM.
Apparently, the people at Motorola think that the talk quality is already high enough on Alltel/Sprint/Verizon that it doesn't need CrystalTalk. We have to say that if the call quality is like that of the original RAZR on Verizon, that's pretty accurate. However, we'd like to hear CrystalTalk with those services; you really can never have too good a call quality. The only drawback is that CrystalTalk apparently drains the battery faster.
We're going to quote from from Segan's last paragraph, since it says exactly what we want to say about this issue:
While the carriers would say the wide variation in features of their respective RAZR2 models shows the vibrant competitiveness of our market, I say that's nonsense. On the contrary, this shows exactly what's wrong with the US market. The RAZR2 platform is capable of running a variety of Web browsers, e-mail platforms, and, with the right APIs, throwing live video onto the external screen. Messaging software developers and video programmers should be able to compete and outdo each other at using that gorgeous external screen. That would be a truly competitive market, unleashing the hunger of hundreds of developers. Instead, we're stuck with the mediocre choices picked by our carrier overlords for us—and if you want something different, no soup for you!
Spot on.

Related Posts

Leave a Reply
Featured Provider
Net 10 Prepaid

Our Rating