Poll
Loading ...
First Open Development phone set to hit Verizon
posted by Joe on September 11th, 2008 - 10:00 am | Prepaid Phones
Last November, I was shocked to hear that Verizon would be allowing third party applications and phones on its network. It just…it just didn't seem like something Verizon would do at the time. Since then we've found out that the deal isn't completely open, but it's certainly an idea worth exploring. AirVoice Wireless, a prepaid wireless company, has developed the first handset. It will cost $69 and it should be available soon. The question is, on what service will you be able to use it?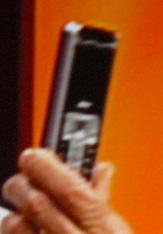 Apologies for the poor quality photo. It seems to be the only one going around.
AirVoice is an MVNO. According to Gearlog, they borrow from both the AT&T and Verizon networks, like Tracfone. I would guess, then, that AirVoice created the handset for their own purposes. They just needed the approval from Verizon, since they use that network. Chances are, we're not going to see this thing available for INpulse.
[Gearlog]

Related Posts

Leave a Reply
Featured Provider
Net 10 Prepaid

Our Rating