Poll
Loading ...
MetroPCS lands LG Motion 4G and adds promotional 4G LTE monthly plan
posted by Joe on August 21st, 2012 - 12:40 pm | MetroPCS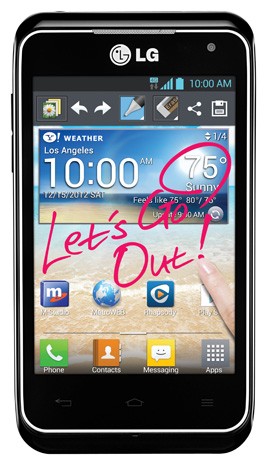 We heard a month ago that MetroPCS would get the LG Motion 4G. Today they delivered on the goods, introducing the Android handset. It runs Android 4.0, which is a step up from the other MetroPCS Android smartphones running Android 2.3. It also has an iPhone-sized 3.5-inch touchscreen and a 1.2GHz dual-core processor, so it's certainly a cut above for MetroPCS. It will cost $149 plus tax, and will be available at MetroPCS's website later this week.
MetroPCS also made a couple of plan and promotion announcements to go along with the LG Motion 4G launch.
Customers can now sign up for a $55 4G LTE plan with MetroPCS, which includes unlimited talk, text, and LTE data. The key there is unlimited LTE data. MetroPCS's $50 LTE plan provides only 2.5GB of LTE data before sending you back to 3G or slower, while the $60 plan, which includes Rhapsody unlimited music, caps out at 5GB on 4G LTE data. The only truly unlimited 4G plan is the $70 monthly plan. So the $55 plan is definitely something new and existing customers should check out.
Finally, MetroPCS is offering a mail-in rebate for customers who purchase two 4G LTE handsets. There's no note on the exact amount of said rebate, though MetroPCS says that the the rebate, applied to the second phone purchase, can reduce the handset to $99.