Poll
Loading ...
MetroPCS announces ZTE Anthem 4G, nears 1 million LTE subscribers
posted by Joe on September 21st, 2012 - 9:00 am | MetroPCS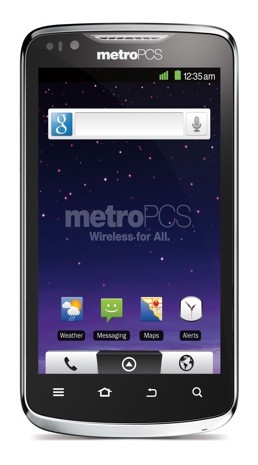 MetroPCS announced another 4G LTE Android handset, the ZTE Anthem. Unfortunately, it doesn't look like a very good one. It runs Android 2.3 Gingerbread, though its 1.2GHz Snapdragon processor suggests it could handle 4.0 Ice Cream Sandwich. Perhaps there will be an upgrade, but that's the issue with phones running older versions: you never know if it's getting the upgrade. We first heard about the ZTE Anthem along with MetroPCS's fall lineup. The only one left is the Samsung Galaxy S III, which is pretty exciting. As for the Anthem, it will cost $219 after mail-in rebate, which seems a bit steep for a handset of its caliber.
At a quick glance, here are two handsets that look better than the Anthem, for a better price:
Coolpad Quattro 4G: $100 after $50 mail-in rebate
LG Motion 4G: $149
That price point just misses, it seems.
MetroPCS also announced that it is nearing one million 4G LTE subscribers. That's a hair less than one out of nine subscribers, though that will surely change by this time next year. Many MetroPCS customers take advantage of its feature phones and unlimited talk and text features, but the demand for 4G LTE phones will certainly grow. I wouldn't be surprised if over 40 percent of MetroPCS customers were on LTE by this time next year.
Via Phone Scoop and Wireless Week.