Poll
Loading ...
MetroPCS announces two LTE smartphones
posted by Joe on January 10th, 2012 - 7:30 am | MetroPCS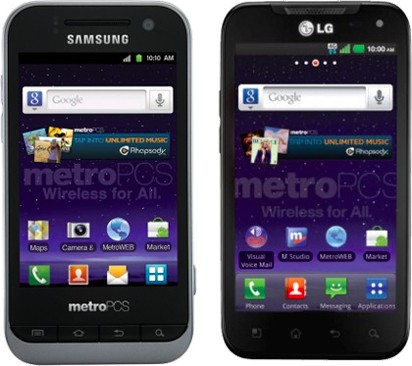 MetroPCS started off CES 2012 with a bang, announcing two new LTE handsets. The first, to the left, is the Samsung Galaxy Attain. The second is the LG Connect, pictured to the right. The Attain is something of a mid-level handset, featuring a 1GHz processor, 3.5-inch screen, and a front-facing camera. It will cost $199, after a $50 mail-in rebate. The Connect is a bit higher end, featuring a 1.2GHz dual-core processor. It can record 720p video as well, making it a bit more attractive for the younger crowd. There is no price set on the Connect yet, though both the Connect and the Galaxy Attain should be available later this month. Both run Android 2.3, though there's a chance they could get an upgrade to Ice Cream Sandwich 4.0.

Related Posts

7 Responses
Leave a Reply
Featured Provider
Net 10 Prepaid

Our Rating