Poll
Loading ...
MetroPCS adds tokidoki artwork to Huawei M835
posted by Joe on October 17th, 2011 - 9:54 am | MetroPCS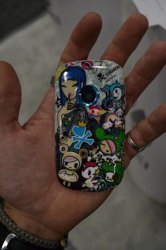 Click for larger

MetroPCS is no stranger to artist-branded handsets. A few years ago they introduced a few phones with Mister Cartoon designs — most notably the Samsung Messenger. They're at it again, this time with tokidoki. They've rebranded the Huawei M835, giving a neat look to the mid-range Android handset. For a refresher, it's a small phone, with a 2.8-inch screen, and runs Android 2.2 Froyo. That said, the normal one costs just $80, so the tokidoki version doesn't figure to be too much more expensive. It'll be out in the coming weeks.

Related Posts

Leave a Reply
Featured Provider
Net 10 Prepaid

Our Rating