Poll
Loading ...
Third party apps for the iPhone?
posted by Joe on October 12th, 2007 - 10:00 am | iPhone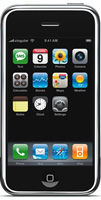 So it looks like Apple might be succumbing to pressure bought on by the media and consumers, allowing third party application development for the iPhone. It's just a rumor at this point, but it would make sense. They're coming under a lot of fire for crippling unlocked phones, so one way to appease that crowd is to allow them their user-developed applications. Of course, there's a catch — there's always a catch.

But Apple has been "furiously working" with partners on games and apps for the iPod and iPhone, the Apple news site 9 to 5 Mac reported. For example, EA is porting its line of iPod games to the OS X-based iPhone and new generation of OS X-based iPods. "Other big developers with strict confidentiality agreements are also working with Apple," 9 to 5 Mac said.
The catch: Apple has to vet all usable applications, and, of course, they'll only be available through iTunes. That makes clear Apple's reason for not allowing third party apps yet: They want a cut. Because they must approve all applications and because they must all be downloaded through iTunes, Apple can take a percentage of sales. This we don't like.
Why should Apple make money off this? Do they make money off all software developed for the Mac? No. And if they did, people would be outraged. So why aren't they now?
We think it's because people are used to being screwed over by the telecommunications industry. Seriously, this has to stop. Apple does not own your iPhone. You paid them $400 (or $600) to own the device. It is yours. Your legal property. So why does Apple still get to dip its hand in? Just ridiculous.

Related Posts

Leave a Reply
Featured Provider
Net 10 Prepaid

Our Rating