Poll
Loading ...
Survey says: Alltel, T-Mobile, Palm biggest iPhone victims
posted by Joe on October 16th, 2007 - 11:02 am | iPhone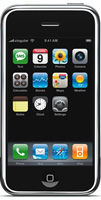 When one company gains customers, it's usually at the cost of others, right? True, there are always new entrants, but when you're seeing a significant number of new customers — as AT&T did with the iPhone — they're bound to be coming from other service providers. After all, the iPhone isn't exactly what most people get as their first cell phone. A recent survey shows that the rich continued to get richer, as T-Mobile and Alltel saw the greatest customer loss to the iPhone. Smart phone maker Palm, predictably, also saw losses in the face of iPhone competition.

The survey was taken by a sample of 13,000 consumers who had purchased a phone over a 30-day period. 200 of these purchased an iPhone.

It found that an iPhone purchaser was ten times more likely than other new phone buyers to have owned a Palm Treo, and three times more likely to own a T-Mobile branded phone, such as a Sidekick, MDA, or Dash.

However, in a sign that the iPhone is having some difficulty in penetrating the business market, consumers were no more likely than an average phone buyer to have purchased a BlackBerry prior to the iPhone.
We're glad to see a sample size of 13,000, since that's actually significant. Yes, Verizon and Sprint did lose customers, but the survey finds that they experienced a normal level of churn, while T-Mobile and Alltel bit it hard. Their customers were three times more likely to have switched than those from other carriers.
But why Alltel and T-Mobile? Well, BetaNews explains the T-Mobile thing by saying that "GSM customers generally stay technology-loyal." We can't corroborate that, and frankly we have no idea where they came up with that, but we'll take it for now (with the normal grain of skepticism). It's tougher to explain Alltel…though we'd like to point to their lack of smart phones as a starting point.
In any event, these fluctuations should even out as the iPhone hype cools (though it already has).