Poll
Loading ...
Apple sued over inoperable iPhones
posted by Joe on October 8th, 2007 - 11:00 am | Consumer Issues, iPhone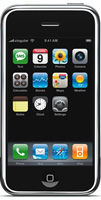 What do you do when a company infringes on your rights? You sue them, of course! So when Apple went and basically disabled unlocked iPhones with a security update, it was inevitable that a suit would be brought against them. After all, people are fully within their legal rights to unlock the phone, and Apple shouldn't be able to deter people from their rights. The suit was filed out in California, which has the best consumer laws in the nation.

Specifically, Timothy P. Smith v. Apple Inc. charges the iPhone maker with violating the Cartwright Act, because, according to the court papers, "Apple prohibits iPhone consumers from using and purchasing a cell phone service other than through AT&T (NYSE: T)."

The suit also says that cell phone unlocking is completely legal, citing traditional copyright law as well as the more recent Digital Millennium Copyright Act.
There is no dollar amount on the case at this point, because the plaintiff's attorneys want to get a better idea of how many people were affected by this iBricking. There are 1.28 million iPhone users, but an unknown number of unlocked devices. The suit filing says "hundreds of thousands," but we're not quite sure there are that many.
Beyond the unknown monetary damages, the suit seeks to bar Apple from selling the iPhone with any kind of software lock, from denying a warranty to unlocked users, and from requiring service through AT&T.
Honestly, we don't see the consumers winning this one. But if they do, it will set a lofty precedent for the locking of phones. Expect us to stay on top of this one.