Poll
Loading ...
FreedomPop Launches Self-Branded Smartphone
posted by Liz E. on March 18th, 2017 - 12:19 pm | FreedomPop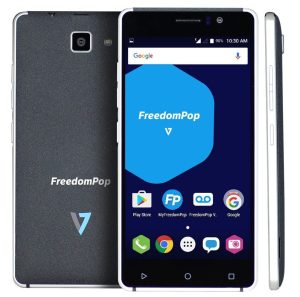 FreedomPop, a freemium Sprint MVNO, has launched its first self-branded smartphone, the FreedomPop V7. This device is currently only available in the United Kingdom and Spain, but is expected to be launched in the United States sometime soon.
The FreedomPop V7 is an entry-level Android device which costs in €59 ($72 USD). The device comes with a FreedomPop SIM card, which means that it has unlimited lifetime service, provided you don't exceed FreedomPop's free plan. The downside is that the actual phone hardware itself is, at launch, at least a couple years outdated. Here's the specs:
Android 6.0 Marshmallow
1.1 Ghz quad-core Snapdragon 210 processor
1 GB RAM
16 GB memory
13 MP rear-facing camera
microSD slot (up to 32 GB)
removable 2,100 mAh Li-Ion battery
Dual-SIM capability
As you can see, the phone isn't going to be winning any awards. However, the phone does come with a FreedomPop SIM which means that for a measly $72, users can get 200 free minutes, texts, and data per month, with the option to upgrade if additional service is needed. To sweeten the deal, FreedomPop users can access WhatsApp for free, which means even more minutes.
The device is listed to be available "as supplies last" and users in the UK and Spain who sign up can get a free month of FreedomPop's Premium plan, which comes with unlimited talk and text plus 2 GB of data. The Premium plan normally costs £11.99 per month.
This is a huge move for the MVNO, which only started offering used devices though an online store last November. The addition of free service makes this a great choice for users looking to pick up an emergency device. Also, since the phone is dual-SIM, it's possible to use a secondary cheap plan after the free minutes/texts/data from FreedomPop is gone.
If you live in the UK or Spain, or simply want more information on the phone, you can click here.
FreedomPop offers four different plans ranging from free to $19.99/month. To check out the rates and plans, visit the FreedomPop website.