Poll
Loading ...
Meet Cricket's first tablet
posted by Joe on March 28th, 2011 - 9:44 am | Cricket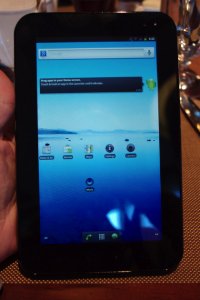 Click for larger
Pictured above is the first tablet to hit Cricket wireless. It's from a company called Anydata, which might not ring any bells, even with gadget aficionados. Yet it might be a boon to Cricket users looking to get into the tablet game. The as-of-now nameless tablet features a 1.2GHz processor, which is impressive in itself. It's a seven-incher, so that makes it around the same size as the Samsung Galaxy Tab. Functionally it runs Android versions 2.3, Gingerbread, though Anydata says it is working with Google on a Honeycomb versions (which is their tablet-specific operating system). More after the jump.
Make sure to check out the hands-on by Sascha Segan at PC Magazine. He runs through and is decently impressed. It's a WiFi-only unit for now, which is a bit odd. It is, after all, being sold through a cellular carrier. Apparently the 3G version is coming, probably in the third quarter. Still, you can get it in Cricket stores when available. Best of all, the price should beat most comparable tablets on the market, checking in at around $300 to $400 (which you should assume means $399).
There's no set release date yet, but it appears this is coming soon. It looks like an affordable yet powerful tablet option, for Cricket and non-Cricket users alike.

Related Posts

Leave a Reply
Featured Provider
Net 10 Prepaid

Our Rating