Poll
Loading ...
Cricket moving up with Muve Music, Samsung Vitality
posted by Joe on September 12th, 2011 - 12:00 pm | Cricket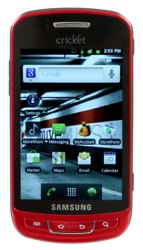 It appears that Cricket got the timing right when releasing the Samsung Vitality. We first learned about the Vitality a few weeks ago, and we knew that it would be the first Android handset to carry Cricket's Muve Music service. Late last week they officially announced the device, and they also had a little surprise to go along with it. They now have over 200,000 subscribers using Muve Music. That might not seem too impressive, but consider that 1) Muve just hit in January and wasn't nationwide until sometime later in the year, and 2) that constitutes nearly 3 percent of Cricket's overall seven million subscribers.

You you can get the Vitality at Cricket's website for $179.99. It requires the $65 Android Muve Music Plan.