Poll
Loading ...
Cricket launching the Galaxy Tab 10.1
posted by Joe on December 16th, 2011 - 7:30 am | Cricket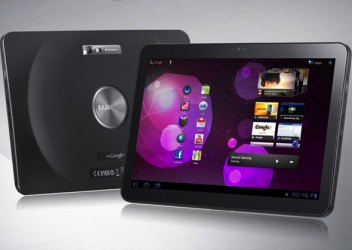 Earlier this year we learned that Cricket planned to begin offering tablets at some point in 2012. Shortly thereafter, though, they decided to back off. This wouldn't be a typical tablet from a cell carrier, with 3G internet connection. Instead it would be a WiFi-only device that works with Cricket's mobile broadband service via a portable hotspot. It's understandable, then, why they backed off; there wasn't a unique value add. Now it appears they will offer a tablet after all, the Samsung Galaxy Tab 10.1. It's available now.


The Galaxy Tab 10.1 is one of the higher end Android tablets on the market, coming close to or exceeding the iPad in most features. It's also priced right in the iPad range, which is one reason why there hasn't been too much hype for it. As with its original tablet plan, Cricket will offer the WiFi-only Galaxy Tab, bundling it with a month of their broadband service and a portable hotspot for a $594.99. Thereafter customers can get 2.5GB for $45, 5GB for $55, or 7.5GB for $65.

Customers seeking an alternative to the iPad will do well with the Galaxy Tab. The portable hotspot and mobile broadband service from Cricket helps even more. It gets expensive at near $600 up front, but it gives customers a chance to see if they really need mobile broadband. If not, they can drop it without further cost.

The Samsung Galaxy Tab 10.1 bundle is now available at Cricket's website.

Via FierceWireless.

Related Posts

3 Responses
Albert Browne, Jr. Says




MetroPCS should've been way ahead of this company by being the first prepaid carrier to launch such devices. How they gonna let a little upstart company like Leap Wireless get a leg up on them like that? I betcha now they shall follow suit just to get the competition thing going…


Posted on December 16th, 2011 at 11:36 am

david Says




because they dont need some like that its a waste of money. They are to busy put 4g which to me is a better and smarter


Posted on December 23rd, 2011 at 4:22 pm

Jasmine G Says




I want Cricket to become a 4G Network
End Of Story


Posted on December 29th, 2011 at 11:44 pm
Leave a Reply
Featured Provider
Net 10 Prepaid

Our Rating