Poll
Loading ...
Cricket goes nationwide, adds ZTE Score
posted by Joe on September 23rd, 2011 - 7:30 am | Cricket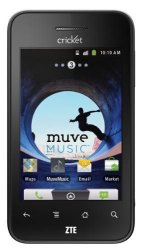 Click for larger
.
Big news today from Cricket, as they're taking the next step in nationwide coverage. Last year they announced a 3G roaming partnership with Sprint, which helped fill out their network and provide customers with more coverage. When I spoke to Leap Wireless executives, though, they said that they had no immediate plans to activate accounts nationwide. That is, only people within Cricket's primary coverage area could activate accounts, though they could use the phones in more parts of the country than previously. Now Cricket has truly expanded. They've partnered with Best Buy to offer handsets across the country. That should give it a leg up on smaller rivals, such as MetroPCS. Even more excitingly, Cricket plans to roll out with other retailers as well, including Walmart and Dollar General.

They've added a new handset as well.


The ZTE score is nothing special in itself. It's a low-powered Android handset, though it does run version 2.3 of the Android OS. That means it has advanced features, just like the higher end handsets you see. It just won't run them as smoothly as the others. It will, however, include Muve Music, though that does mean paying extra for the plan.The handset itself will cost $130.

Both the nationwide roll-out and the ZTE Score will become available this Sunday, September 25th. Check them out at your local Best Buy dealer, at Best Buy's mobile phones site, or at Cricket's website.

Related Posts

4 Responses
Leave a Reply
Featured Provider
Net 10 Prepaid

Our Rating