Poll
Loading ...
Cricket getting Samsung Vitality with Muve Music
posted by Joe on August 31st, 2011 - 7:30 am | Cricket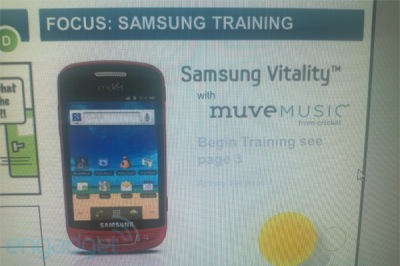 Click for larger, but still grainy, image.
If you look close enough at this screen cap, you might notice something about the Samsung Vitality. It looks an awful lot like the Samsung Admire, which recently launched on MetroPCS. We often see Cricket and MetroPCS pick up the same handsets, so this comes with little surprise. Cricket stands out, however, because it is including its Muve Music service with the Vitality. That is, you can download unlimited songs straight to the device and play them whenever. Combined with Google Music, which works swimmingly with Android handsets, and you'll never be left without tunes. There is no pricing or release date set for the Vitality, but word is that it will require a $65 monthly plan. Is having nearly infinite music worth that price?

Related Posts

One Response
Cricket moving up with Muve Music, Samsung Vitality | Prepaid Reviews Says


[...] appears that Cricket got the timing right when releasing the Samsung Vitality. We first learned about the Vitality a few weeks ago, and we knew that it would be the first Android handset to carry Cricket's Muve Music [...]


Posted on September 12th, 2011 at 12:02 pm
Leave a Reply
Featured Provider
Net 10 Prepaid

Our Rating