Poll
Loading ...
Finding the best phone from each prepaid carrier
posted by Joe on September 3rd, 2008 - 12:00 pm | Consumer Issues
Can you get a quality, feature-rich phone on prepaid? How about for a good price? It used to be that you either had to settle for a five-year-old phone, a refurbished model, or pay out the wazoo for a prepaid cell phone. Last week, though, we saw a deal on AT&T Go Phone: the Sony Ericsson Z750 for $39.99. With a $25 airtime card included, the net cost to the consumer is $14.99. A quick glance at the features — music player, 2 megapixel camera, Bluetooth — shows that this is a stupendous value for the dollar. Today, we'll take a look at some of our pay as you go cell phone providers to see the best deals they offer on phones.
Alltel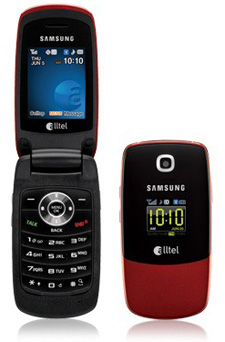 With the completion of the Alltel / Verizon deal on the horizon, we might not be talking about Alltel prepaid for much longer. While they're around, though, we can take a gander at some of their better prepaid phone deals. I've long been a fan of Alltel prepaid, mainly because they subsidize their phones. Not to the extent they do their postpaid phones, but it's still more than most other companies provide.
The first phone which stands out is the Samsung MyShot. It features a 1.3 megapixel camera, Bluetooth, and GPS capability. That might not sound like a ton of features, but with a $29.99 price tag, you could do a lot worse. In fact, as we'll see with a provider later on, it costs $100 more with them.
The Alltel Hue by Samsung adds an MP3 player to the mix, with many of the other features similar to the MyShot. However, music-listening capabilities will cost you $30. If that's worth it for you, the Hue checks in at $59.99. Not bad, considering the features you get with it.
Unfortunately, Samsung prepaid phones do not come with free airtime. So while the price might be similar to the aforementioned Sony Ericsson from AT&T, you're not getting the airtime bonus. Even so, this represents a good deal.
MetroPCS and Cricket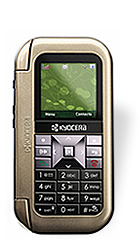 I'm lumping these two together because of their similar pricing scheme. While they will offer small deals on phones from time to time, for the most part they charge full retail price for their handsets. That's a major hindrance for budget-minded consumers. They're either stuck with a featureless phone, or have to pay a good amount of money to get a decent model.
Yes, Cricket prepaid is the culprit of the above example. They offer the Samsung MyShot for $129.99, and that's after a Web-only discount of $20. Their best deal, however, is on the Kyocera Lingo. This phone flips open to reveal a full QWERTY keyboard, and features a 1.3 megapixel camera, Bluetooth, and Web browsing capabilities. The retail price on the Lingo is $179.99, but Cricket offers a deal here. You can knock $20 off for the Web discount, and then another $100 for the mail-in rebate, reducing the price to $59.99. Plus, you get a month of free service when buying the phone online. That more than makes up for the $15 activation fee.
On the MetroPCS prepaid front: is it just me, or is their phone selection shrinking? They only have six phones listed on the website, only two of which are below $100. Even that is misleading, as those phones are $99. The MyShot is even more expensive down Metro's way, checking in at the full retail price of $149.99. The Samsung Spex seems the best deal here, though it's not really a deal at $99.
kajeet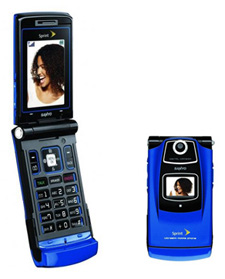 If we're talking cell phones for kids, there has to be a good deal to be found. Starting things off right, kajeet offers $25 of airtime when you buy a phone online. So when we look at phones like the Samsung m300 and the Sanyo Katana, we can knock that $25 right off, since it will be made up for with airtime.
kajeet does offer a number of lower-end phones, namely the LG LX150 and 160, but those don't provide many features at all. Like all kajeet phones, it does have Bluetooth capabilities, but no camera and no music player. The Samsung m300 and the Sanyo Katana feature VGA cameras, which clearly appeals to kids. They check in at just $10 apart, $69.99 for the m300 and $79.99 for the Katana. So that amounts to $45 or $55, which is a decent deal for a prepaid phone.
There is a music phone on kajeet's page, the LG Rumor, which also features a QWERTY keyboard. While kids might love it, it is priced at $169.99, so it's out of our budget range. Still, with the m300 and the Katana — and even the LG models, which would come out even cheaper with the free airtime — kajeet maintains a decent selection of mid-range phones for kids.
Net10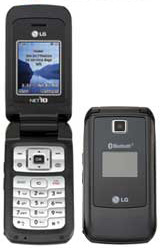 If you take a gander at Net10, you'll see that they offer 300 minutes (60 days of service) with every new phone purchase. So that's $30 right there in airtime. Considering Net10 phones, at least those in CDMA areas, cap out at $79.99, we're bound to find more than one good deal here.
I first point to the Motorola W375. It's pretty basic, offering a VGA camera and little more. With the $30 in airtime, though, the phone costs a net $29.99. Of course, this phone doesn't offer Bluetooth. That would be nice, but this deal will suffice. The LG 600G will take care of the Bluetooth needs, and it has the same VGA camera. With the $30 in airtime factored in, the 600G works out to $49.99.
A pair of phones offer airtime bonuses on top of the 300 free minutes. The refurbished Nokia 1600 costs $30, so the included airtime makes it essentially free. On top of that, Net10 offers an additional 300 minute card. The phone has barely any features, which might not be appealing to some. If you're a strictly talk/text person, though, getting this phone means you're being paid $30 in airtime. Not bad. The Motorlal V176 is another featureless phone, this one a flip. It might seem steep at $60, but it comes with a 600 minute airtime card, which makes the cost a wash. Add in the 300 minute card that comes with all the phones, and you're being paid $30 in airtime here, too.
You might not get a ton of features with Net10, but if you buy on the Web you're not going to pay a whole ton. It's all a balancing act.
Tracfone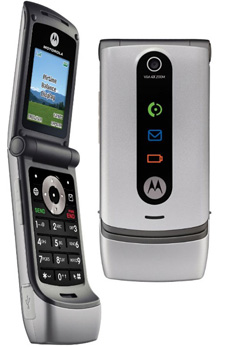 Like its subsidiary Net10, Tracfone prepaid services offer airtime with many of their models. In addition, some include double minutes cards, which they sell for $49.99. So let's take a look at some of the better offers on Tracfone handsets.
A number of them can be had for a wash. For example, the Motorola W376g sells for $49.99, and comes with a double minutes card of the same price. The phone features Bluetooth, a VGA camera, and other standard features. It's a new model, and one of the best Tracfone has offered on CDMA to date. The fact that it's essentially free only sweetens the deal.
The deal on the LG 225 is also remarkable. While the only feature on the phone is a VGA camera, the deal outweighs most of the handset's shortcomings. It comes in a package which costs $99.99, and it comes with a 400-minute card, which doesn't expire for a year. How much does that card normally sell for? $99.99. So right there, the phone is free. Oh yeah, and you get a double minutes for life card, which as we mentioned costs $49.99. So that's $50 for you to take the phone off their hands. Plus, you get double minutes on all your future minute purchases for the phone.
A number of other models come out as a wash when bundled with airtime, including the Motorola V170, the Motorola C261, the Motorola W176g, the Motorola W370R, and the Motorola C139. The Motorola W370 checks in at $29.99 and comes with the $49.99 double minutes card, so that works out even better.
Virgin Mobile
Virgin Mobile USA isn't known for bundling airtime with handsets, but there are a few exceptions. For instance, if you buy $19.99 worth of airtime, they'll send you a Slice for free. Sure, it's not much of a phone. You can talk and text, sure, but not much else. Then again, it's free, so who's complaining?
Verizon INpulse
There's not much to brag about regarding Verizon's INpulse offers. They do offer $10 of airtime iwth every phone purchase. You can nab the Samsung u410 for $49.99, so $39.99 when you factor in the airtime. It has Bluetooth, a VGA camera, and little more. It's out of stock right now, though for $10 more you can get the u340, which, eh, has the same features minus the Bluetooth. And yeah, it costs more (I'm sure there's a reason why, though).

Related Posts

Leave a Reply
Featured Provider
Net 10 Prepaid

Our Rating