Poll
Loading ...
Consumer Cellular releases Motorola Bravo Android handset
posted by Joe on September 9th, 2011 - 7:30 am | Consumer Cellular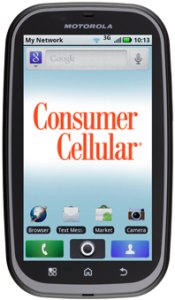 Yesterday Consumer Cellular announced the release of the Motorola Bravo. It's their first Android handset, and it's a decent offering at that. The Bravo features a 3.7-inch touchscreen and runs Android 2.2. It also comes with Swype, which is useful for people who aren't used to typing without a physical keyboard. Consumer Cellular is highlighting its most expensive data plan, which includes 2,000 minutes and 100MB of data, for this handset. Customers who order the Bravo will instead get 200MB of data with that plan, which costs $20 per month on top of a standard voice plan. You can get the Bravo for $165 at Consumer Cellular's website.