Poll
Loading ...
Consumer Cellular Offering Free Month of Service
posted by Liz E. on April 17th, 2017 - 12:16 pm | Consumer Cellular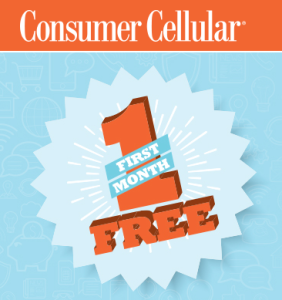 Consumer Cellular, one of the nation's top prepaid MVNOs, has launched a new promotion that offers customers a free month of service when they sign up for a new line of service. The company, which uses AT&T's network, is offering the promotion now through May 15, 2017.
As expected, the new promotion is only available for new customers, but is applicable for all plan configurations and covers the access fee as well. International calling, add-ons, and device payment programs are not covered. To qualify, customers must activate before the promotion ends on May 15, 2017.
Unlike other carriers, Consumer Cellular allows its customers to create their own plan by selecting the amount of minutes, texts, and data that they need. AARP customers get a discount, and there is an access fee charged on all plans.
Here are the plan options:
Talk Plans
$10 – billed per minute ($0.25/minute)
$15 – 250 minutes
$20 – 1,500 minutes
$30 – unlimited minutes
Connect Plans
$2.50 – 300 texts, 30 MB
$5 – 2,000 texts, 200 MB
$10 – unlimited texts, 500 MB
$20 – unlimited texts, 1.5 GB
$30 – unlimited texts, 3 GB
$40 – unlimited texts, 5 GB
Consumer Cellular offers a range of both simple and smart devices, and BYOD is supported although customers will have to purchase their own SIM card. Learn more about BYOD here.
For more information on Consumer Cellular, or to purchase your own plan and take advantage of this promotion, visit the Consumer Cellular website.