Poll
Loading ...
Consumer Cellular introduces touchscreen Samsung A697
posted by Joe on November 30th, 2010 - 8:30 am | Consumer Cellular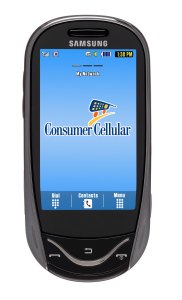 Will a touchscreen phone sell on a carrier that is mainly geared towards folks of an older generation? Consumer Cellular is going to find out. They've announced the release of the Samsung A697, a handset with a 3-inch touchscreen. Other than a 2 megapixel camera there's not much else to boast, though it seems Consumer Cellular is focusing on the user interface. At least the price is right: $60, plus $35 activation fee. If customers open a new line or open a new line on an existing account, they're eligible to receive double their plan's minutes for the first three months. That promotion runs through the end of the month. You can get that, and the A697 on Consumer Cellular's website.