Poll
Loading ...
Consumer Cellular adds Motorola WX345
posted by Joe on February 22nd, 2011 - 8:30 am | Consumer Cellular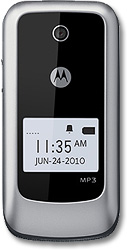 It's not often we get dish on Consumer Cellular, but yesterday we saw that they added the handset pictured above. It's the most basic of basic handsets, though it does have a VGA camera and some form of media player. The handset is free after instant rebate, though it does require a $35 activation fee. You can get this at a retailer or at Consumer Cellular's website.

Related Posts

Leave a Reply
Featured Provider
Net 10 Prepaid

Our Rating