Poll
Loading ...
Simple Mobile
December 19th, 2014 | Simple Mobile | No Comments

T-Mobile MVNO Simple Mobile quietly made some small changes to two of their plans this week that is bound to make Simple Mobile customers pretty pleased. Effective immediately, Simple Mobile has doubled the high-speed data cap on their top tiered plans for both the nationwide unlimited plans and their international unlimited plans.

Read the full article →

October 3rd, 2014 | Simple Mobile | 2 Comments

Simple Mobile is, well, unsurprisingly simple. Originally founded in 2009, Simple Mobile was purchased by Tracfone in 2012 and currently operates as a subsidiary company of Tracfone. They work on T-Mobile's GSM network. Simple Mobile is a pretty successful company with nearly 2.5 million subscribers since 2009.

Read the full article →

August 1st, 2012 | Simple Mobile | 4 Comments
Not long after Tracfone acquired it, Simple Mobile has cut the price of its flagship unlimited offering. Previously they charged $60 per month for unlimited voice, text messaging (global), and HSPA+ data. Now they're charging just $50 per month. The change is in effect now. You can pick up a Simple Mobile SIM card and plan at Simple Mobile's website.
Via Phone Scoop.

Read the full article →

May 11th, 2012 | Simple Mobile | 4 Comments
It appears that America Movil's U.S. operation has just grown. According to a Reuters report, America Movil has acquired Simple Mobile in a deal worth about $100 million. Simple now joins Tracfone, Net10, and Straight Talk as Movil's U.S. brands. A Barclay's report notes that with the addition of Simple, America Movil now accounts for about 30 percent of U.S. prepaid subscribers. It's unclear if this will bring any chances to Simple Mobile. It is an MVNO of the T-Mobile network, but America Movil uses spectrum from all four major carriers with its other brands. We should learn more when the deal closes, which should be in the next few months.

Read the full article →

December 23rd, 2011 | Simple Mobile | No Comments
For customers who make frequent calls overseas, Simple Mobile has unveiled two new calling plans. The first costs $10 per month and offers unlimited calls to cities in Mexico, Canada, Dominican Republic, and 49 other countries. This covers only landlines in some cities, while it covers wireless in others — similar plans cover wireless in Canada and landlines elsewhere. Simple Mobile also introduced a $10 pay-as-you-go international plan, which covers more international destinations than the unlimited plan. The cost per minute depends on the country, and is deducted from the $10 balance. Customers are encouraged to visit Simple Mobile's website and read up on the specifics, as there are many restrictions involved with both plans.

Read the full article →

September 26th, 2011 | Simple Mobile | No Comments
Simple Mobile made a big move last week, introducing three new unlimited talk, text, and web plans, including a $40 plan that is compatible with Android smartphones. They also added two unlimited BlackBerry plans: $50 for basic unlimited, and $60 for HPSA+ speeds, for compatible phones. These plans round out Simple Mobile's offerings, which already included a $60 unlimited HSPA+ plan and a $25 15-day unlimited talk and text plan. Simple Mobile's signature is a bring your own device system, whereby customers bring unlocked phones and drop in a Simple Mobile SIM card.

In addition, Simple Mobile announced two 4G mobile broadband plans.

Read the full article →

July 22nd, 2011 | Simple Mobile | No Comments
We've seen this from a few carriers before, and now it appears that Simple Mobile is hopping on the bandwagon. They already have a few monthly unlimited plans, and now they're going to add a 15-day unlimited plan. It will cost $25, and it will cover unlimited talk and text — including international.
Additionally, Simple Mobile has added a microSIM-only service. That will help them accommodate newer phones, including the iPhone. The microSIM will cost $12.99. You can check it all out on Simple Mobile's website.
Via PhoneNews.com.

Read the full article →

July 1st, 2011 | Simple Mobile | No Comments
We don't see many new MVNOs these days, but sometimes one will break through. Simple Mobile broke through in late 2009, and they've been gaining plenty of momentum since. Part of their appeal is in their bring your own handset feature, which allows customers to use high-end T-Mobile handsets on its network. As Phil Goldstein of FierceWireless reports, Simple has passed the 1.5 million activation mark, just six months after it crossed the one million line. Simple runs on the T-Mobile network, which has 3.2 million MVNO customers.

Read the full article →

June 16th, 2011 | Simple Mobile | 3 Comments
When it comes to data usage, we're getting more and more used to seeing caps rather than unlimited plans. This is especially true for MVNOs, which have to pay to rent network space from bigger carriers. Simple Mobile, however, is trying something new. They're removing the 200MB limit on their $50 plan and making it unlimited. The catch is that it provides that data at 2G, not 3G, speeds. Subscribers who want 3G or 4G data need to pick the $60 plan, which provides unlimited everything (though there have been many complaints about there being unadvertised limits to the services). The best way to use Simple Mobile is to bring an unlocked GSM handset. You can find more information about Simple Mobile's bring your own handset deal, and the $50 unlimited plan, at Simple Mobile's website.
Via Phone Scoop.

Read the full article →

January 14th, 2011 | Simple Mobile | 6 Comments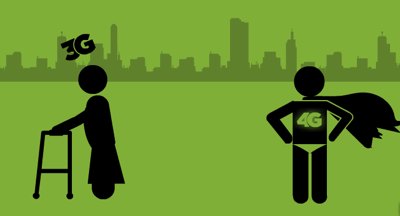 That's an image from Simple Mobile's website. It sure appears as though they're gearing up for 4G. Since Simple Mobile is an MVNO of T-Mobile, that means T-Mobile's high-speed, 21Mbps HSPA+ network. To tear down the fancy talk, that's a really fast data connection. The only issue, as always with Simple Mobile, is getting your hands on an appropriate handset. Only a few of them have HSPA+ capabilities right now, and they're all expensive off contract. Still, with $60 per month for unlimited everything it might be worth a high up-front investment.
Via FierceWireless.

Read the full article →