Poll
Loading ...
Virgin Mobile Canada lets couples talk all they want
posted by Joe on October 27th, 2008 - 10:00 am | Canadian Wireless
Now here's a neat plan idea from our friends at Virgin Mobile Canada. Couples can talk for a long time. It's true, it's true. But what if they're on different cell carriers and don't get unlimited mobile to mobile? What if their current cell plan doesn't even include mobile to mobile? That can make for some very tough decisions later on in the month when you're already approaching or are over your minutes limits. Via Mobile Crunch we hear of Virgin's new plan, myPair. Details after the jump.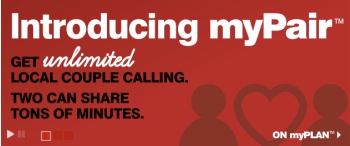 The plan provides unlimited local calling between the to lines on the account. Yes, there are two lines associated with this account. Plus, on top of that, users get 350 shared daytime minutes, unlimited nights and weekends, and a choice of one plan feature. These are unlimited talk and text with five people, unlimited texting to tall, or unlimited incoming calls.
At $50, or $25 per person, this seems like a steal. If I lived up in Canada, I'd consider switching my BlackBerry to data-only and signing up for this as a voice plan. Even if you're sharing the line with a friend, you can find a way to make it work.