Poll
Loading ...
Rogers improving data options
posted by Joe on June 20th, 2008 - 7:34 am | Canadian Wireless
According to these slides, it would appear that Rogers plans to get a bit more generous with their data rates. They've always been known for their extortion-like prices, mainly owing to their monopoly on the Canadian GSM market. But with the release of the iPhone and the BlackBerry Bold in the coming weeks and months, they decided to shape up in order to attract more customers. So how low are we going? Take a look below the jump.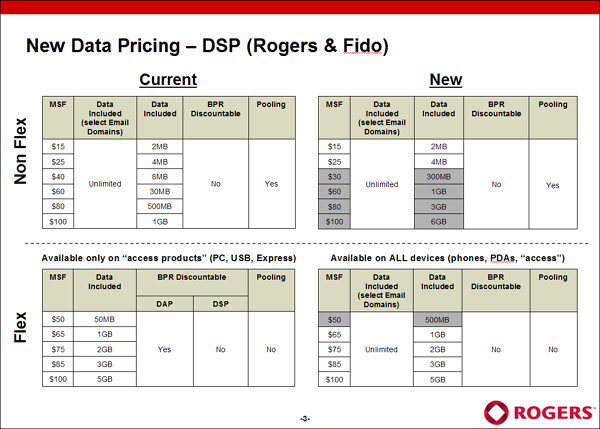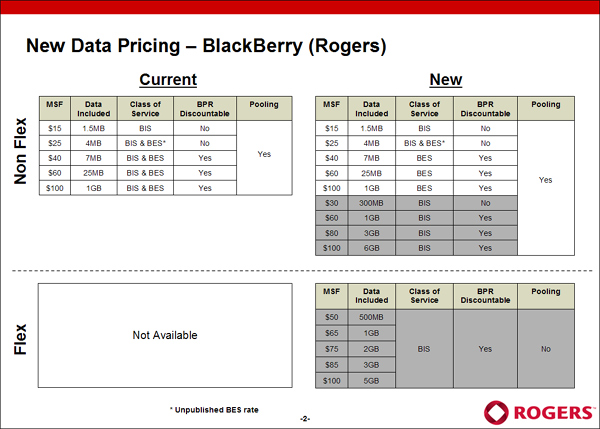 Both the Flex and Non Flex include unlimited data for "select email domains." But for your Web transfers, it looks like Non Flex is stating at $15 for 2 MB, and heads all the way up to $100 for 6 GB. This gives Non Flex customers an additional 5 GB for the same $100. The 1 GB plan now slides down to $60.
On the Flex side, the straight pricing will remain the same: $50 for 500 MB, up to $100 for 5 GB.
On the BlackBerry side they switched things up a bit, separating BIS and BES a bit. The consumer side, that is, BlackBerry Internet Service, gets the five gigs of data for $100, which is a large upgrade. It's the same deal on the Flex side.