Poll
Loading ...
Watch out, Metro and Cricket: Boost Unlimited expands
posted by Stuart on October 23rd, 2007 - 11:00 am | Boost Mobile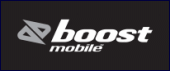 As MetroPCS and Leap Wireless sit on their hands regarding a possible merger, Boost is continuing to cut into their market. Boost Unlimited has demonstrated a high level of success during its trials in California and Texas, and now they're ready to expand even further. This time, it's to Florida, where they'll be available in the following areas: Jacksonville/Tallahassee, Tampa/Orlando, and Miami/Ft. Lauderdale. It's time for the other flat-rate, unlimited prepaid guys to get nervous.

As you might or might not know, Boost Unlimited is a bit restricted in its usage. With normal Boost plans, there are no roaming charges. However, with Unlimited, the restrictions are similar to those of Metro and Cricket: Roaming charges apply when you're outside your home calling area. However, in Florida Boost is changing the rules. For an extra five spot per month, your home calling area becomes all three calling areas. That's a steal if you travel around the state.
The availability of Unlimited by Boost in Florida is part of a service and sales expansion to 10 additional U.S. states. Previously offered in California and Texas only, Unlimited by Boost is now available in 12 states including: Alabama, Arkansas, California, Florida, Georgia, Louisiana, Mississippi, Nevada, North Carolina, Oklahoma, Tennessee and Texas.

For a limited time, Boost Mobile is offering the first month of Unlimited by Boost service free of charge with purchase of a new phone, including the Motorola c290 and W385 phones, and with activation of a new account. The suggested retail price for the c290 is $99.99 and $129.99 for the Motorola W385. Starting Nov. 12, Boost Mobile will offer a wireless Web price plan that includes unlimited voice, unlimited text, unlimited picture messaging and unlimited Web browsing for as low as $55 per month depending on market.
If you look at those markets, you'll notice that they're very similar to the Metro and Cricket ones. Those guys had better act fast, before Boost becomes the big name in unlimited, flat-rate calling. They have the backing of Sprint, which is only going to help matters.
For a prepaid service, though, this is more than a steal. You'd have to buy the phone anyway, so getting a free month of service is like getting that long sought after subsidy on a prepaid phone. Yes, $55 per month might seem steep, but for all you're getting — unlimited calls, unlimited messaging, unlimited mobile web — it's certainly a fair price.
Mark it on your calendars, Floridians. November 12.

Related Posts

4 Responses
Leave a Reply
Featured Provider
Net 10 Prepaid

Our Rating