Poll
Loading ...
Samsung Tranform Ultra Android phone to Boost Mobile
posted by Joe on September 16th, 2011 - 7:30 am | Boost Mobile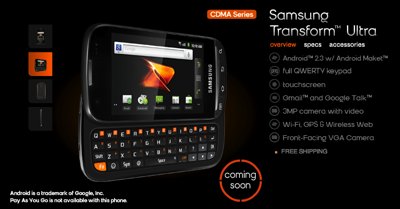 Click for larger

In late July word dropped that Boost Mobile had an Android slider on the horizon. Yesterday that became a reality when they announced the Samsung Transform Ultra. It's a full QWERTY slider and is on the higher end of Android devices. That is, it has a 3.5-inch screen, 1GHz processor, front-facing camera, and it runs Android 2.3. That is, it'll be on the same level as many of the new Androids dropping on major carriers, including Boost's parent Sprint. It'll cost $229.99 and will hit Boost on October 7th. You can get more information at Boost Mobile's website.

One bit of bad news, though: Boost will now add a surcharge for Android users, amounting to $5 per month. Even still, $55 for unlimited everything is a pretty good deal.

Via Phone Scoop.

Related Posts

Leave a Reply
Featured Provider
Net 10 Prepaid

Our Rating