Poll
Loading ...
Boost to launch i1 on June 20
posted by Joe on June 4th, 2010 - 7:30 am | Boost Mobile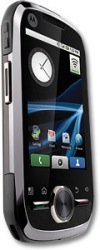 Last week we learned that Boost Mobile would certainly launch the Motorola i1, an Android device that runs on the iDEN network. As we learned at the time, it will launch at Best Buy outlets. Now we have an official announcement. Look for it on June 20. Price tag: $350. So that's a big up-front cost, but on what other carrier can you get unlimited voice, messaging, and data for $50 per month? Users might lament iDEN's slow data speeds, but again, considering the price it's still a pretty good deal.