Poll
Loading ...
Boost to launch BlackBerry Curve 9310 and BBM plan
posted by Joe on June 28th, 2012 - 10:27 am | Boost Mobile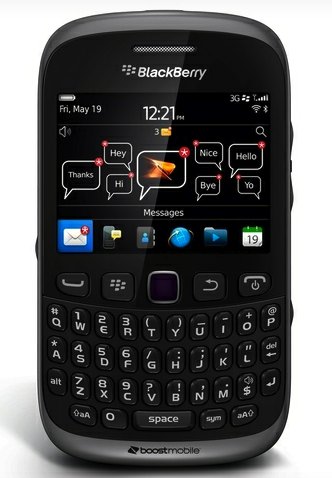 Sprint and Boost Mobile recently announced the availability of the BlackBerry Curve 9310, along with a new BBM plan. The Curve itself is nothing special, since it's from the previous batch of BlackBerry releases. It's faster than older models, and the OS is far better than previous versions, but the release was too little, to late for RIM. Still, BlackBerry fans will find this a more than gratifying experience. It will be available on July 10th at Boost outlets and on Boost Mobile's website. With the Curve will also come a cheaper, BBM-centric plan.
The plan includes unlimited talk and text, plus unlimited BBM service, for $45 per month. That can shrink, with 18 on-time payments, to $30 per month. There is no mobile data included, though, so in order to check email and download BBM-connected apps, users will have to find a WiFi network. Still, it's a nice little break for people who value BBM above all else on the BlackBerry.