Poll
Loading ...
Boost Mobile to add ZTE Warp Android phone
posted by Joe on October 19th, 2011 - 12:46 pm | Boost Mobile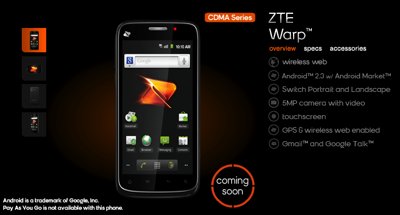 Click for larger

Boost Mobile is at it again. They've announced yet another Android handset for their lineup. This is the ZTE Warp, and you can see many of its most prominent features in the screenshot. But really, it leaves out some of the doozies, including a nice, big 4.3-inch display and a 1GHz processor. Top of the line Android handsets are a bit faster, but not by too much. It does run Android 2.3 and could get a 4.0 upgrade eventually. It will drop on November 2nd and will cost $249.99.

Via Phone Scoop.