Poll
Loading ...
Boost Mobile releases Sanyo Innuendo
posted by Joe on May 19th, 2011 - 9:57 am | Boost Mobile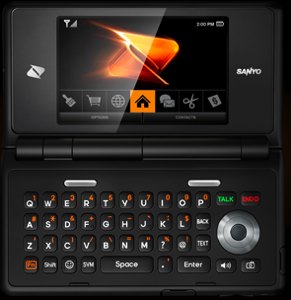 Boost Mobile has been on a roll lately. Last week they announced three new Motorola handsets. Earlier in the week they rolled out the Samsung Galaxy Prevail nationally. Yesterday they added yet another handset to their refreshed lineup. Pictured above is the Sanyo Innuendo, a device that hit parent company Sprint last September. It's an interesting-looking phone that somewhat resembles the LG enV series. That is, it has a normal-looking candy bar face, but flips open to reveal a 2.8-inch screen and full QWERTY keyboard. It also contains a 3.2 megapixel camera and a media player. The device costs $129.99, and is available at Boost outlets or at Boost Mobile's website.