Poll
Loading ...
Boost Mobile releases Samsung Seek in red
posted by Joe on October 26th, 2010 - 7:30 am | Boost Mobile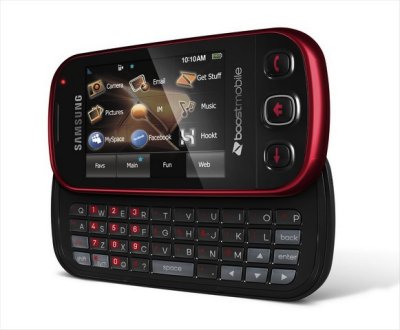 Click for larger
When Boost Mobile released the Samsung Seek in August, it came in just one color, black (though they tell me that it's blue). That's usually fine and good; by pure observation I can state that it's the most common cell phone color. Yesterday Boost announced the same phone, but this time in red. It's still the same touchscreen slider with a full QWERTY keyboard, web browser, and microSD expansion up to 32GB. And yes, it still costs $149.99. You can get one exclusively at Best Buy.

Related Posts

2 Responses
matthew Says




best phone ever, great quality, battery life is exallent most important thing is great sound qality THE BEST PHONE EVER!!!!!!!!!!!


Posted on March 18th, 2011 at 3:28 pm
Takayla Says


i want one of the samsung seek its amazing its cool i want to no do you still selling them in boost mobile


Posted on April 21st, 2012 at 11:45 am
Leave a Reply
Featured Provider
Net 10 Prepaid

Our Rating