Poll
Loading ...
Boost Mobile appears to be preparing Samsung Galaxy Prevail
posted by Joe on April 1st, 2011 - 11:16 am | Boost Mobile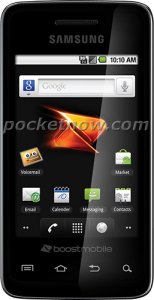 Click for larger
Three weeks ago, we learned that Boost Mobile and Samsung had an announcement coming on April 5. We also know that these types of things tend to get leaked ahead of time. So it came as no surprise when, earlier this week, Pocket Now found the phone they'll be introducing: The Samsung Galaxy Prevail, listed above. It's much like the other Galaxy S units, featuring Android 2.2. We don't know whether it will feature a QWERTY keyboard, a la the Epic 4G, but it will certainly be Boost's best smartphone once it is announced. That will come on Tuesday.