Poll
Loading ...
Boost Extends Unlimited GB Family Promotion
posted by Liz E. on March 20th, 2017 - 12:24 pm | Boost Mobile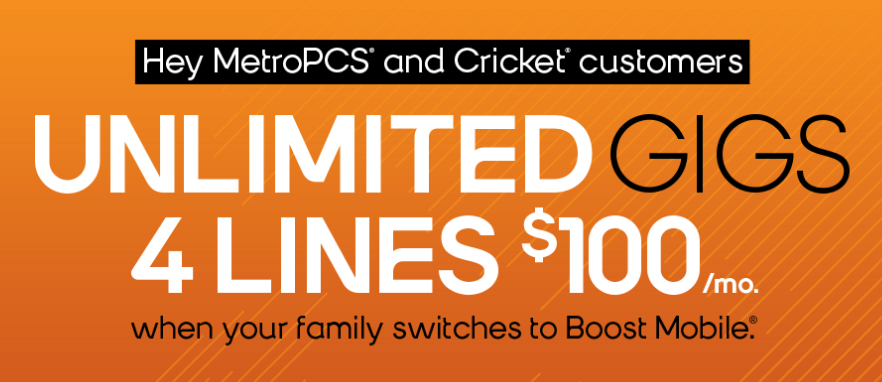 Sprint's MVNO Boost Mobile has extended one of its more lucrative promotions. The 4 lines with unlimited data for $100 promotion was originally set to expire last week, but will instead run through April 10, 2017. As before, this promotion is only available in stores and cannot be redeemed online.
With this promotion, all lines qualify for unlimited talk, text, and high speed data. As is expected, Sprint did say that customers exceeding 23 GB in a single monthly billing cycle will be de-prioritized during peak periods in order to help ease congestion. The plans do come with 8 GB hotspot per line as well, which will be throttled after the data is used. Streaming and online gaming data is also throttled.
In order to qualify for the promotion, users must activate all new lines, and at least one number must be ported in from a non-Sprint carrier (this includes Sprint MVNOs, so be sure to check who your service is with). The numbers must also not have been on Boost Mobile in the last 90 days in order to qualify.
While this promotion is technically for four lines, customers can have as few as two or as many as 5. However, the plan will cost $100 whether you have two lines or four; making this a much better deal with more lines. Users can add a fifth line for an additional $30. Normally, an unlimited plan from Boost costs $50, so this is quite a deal if you add all four (or even five) lines.
This deal extension is obviously in response to similar promotions on MetroPCS and Cricket, both of which offer family line discounts. This is simply the latest in the prepaid price war, but it's a welcome addition. However, I'm not really sure how many customers are going to find this all that appealing with Boost's restrictive policies on phone activation and its streaming restrictions. Still, there are usually phone deals at Boost, which you can check out here.
For more information on Boost Mobile's plans, phones, and services, visit the Boost Mobile website. To take advantage of this deal, find a Boost store near you.