Poll
Loading ...
Boost announces Samsung Galaxy S II, Galaxy Rush, Array
posted by Joe on August 23rd, 2012 - 9:25 am | Boost Mobile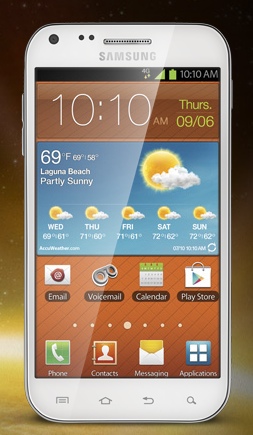 Boost Mobile announced three new Samsung phones for its fall lineup, beefing up its selection in advance of the fourth quarter rush. The most significant addition is the Galaxy S II, known as the Epic 4G on Sprint. As the name suggests it takes advantage of Boost's new WiMax connection, in conjunction with 3G. It's a year-old model, but it's still a good find for prepaid users. It will cost $370, though, making it Boost's most expensive handset to date. Is that a reasonable price for a year-old model off contract? Boost customers will get to vote with their wallets on September 6.
The Galaxy Rush is more in line with a typical prepaid smartphone offering. It has a 3.5-inch screen and isn't quite as powerful as the Galaxy S II. But it also comes at a much lower price tag: $150. Boost will try to sell customers on the Galaxy S II first, but if you wait until later in September you can get your hands on the Rush.
Boost isn't done with feature phones, though, and that's what customers will get with the Samsung Array. It's a slide-out QWERTY device with little to brag about. Still, that makes it a quality device for text-heavy users who don't need data. The handset itself will cost $60 when it hits stores and the web on September 4. It also qualifies for Boost's $45 monthly plan.
Via All Things D.