Poll
Loading ...
Wireless providers embracing iPhone release
posted by Joe on June 12th, 2007 - 9:20 am | AT&T, iPhone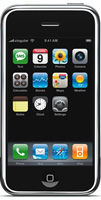 Only AT&T has it. But other companies are warmly welcoming Apple's iPhone, to be released on June 29. Why would they welcome a competitor unveiling thesecond-coming of cell phones?
They think it's going to open the floodgates for similar products. Cheaper products, mainly, that they think will sell better than the $500 to $600 iPhone. Verizon, who turned down the opportunity to distribute iPhones, is countering with Prada, an iPhone look alike from LG (though some think comparing them is ridiculous).
Other companies, such as Sprint Nextel, are embracing the iPhone because it is hardware, not a service. They have been "leading the wireless industry in the area of music," according to senior vice president Oliver Valente. To them, the iPhone will mean more similar devices, which can be better used on the Sprint Nextel network.
Phone companies like Nokia (and the aforementioned LG) are embracing this because it means more multi-use phones. These companies now have time to see what works and doesn't work with the iPhone, and create their competitor thusly — and maybe further the wireless revolution.
We're all for competition, and we're glad that companies aren't complaining about AT&T carrying the iPhone exclusively. It just means more choices for us in the future.

Related Posts

Leave a Reply
Featured Provider
Net 10 Prepaid

Our Rating