Poll
Loading ...
New AT&T Pick Your Plan experimental pricing
posted by Joe on December 22nd, 2008 - 11:00 am | AT&T
If you live in the Northeast and Texas, you might notice that AT&T GoPhone Pick Your Plan deals might be looking a bit different. That's because the nation's No. 1 carrier is experimenting with some new pricing schemes. Phone News has the scoop. As you'll see in the table below, not a whole ton has changed on the surface, other than reducing the number of plans from five to four. However, the big changes come in the fine print.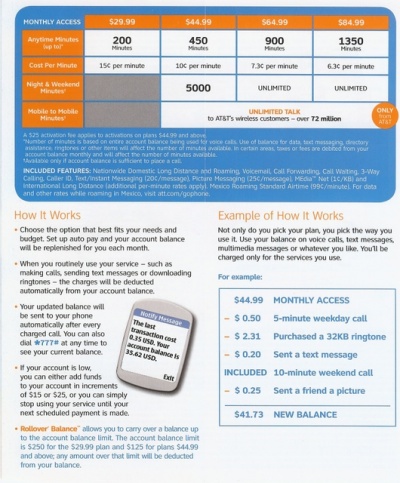 First off, a $25 activation fee for plans $44.99 and above? Good thing they're retaining the $29.99 plan. I wonder how easy it is to get this activation fee waived.
Second, rollover balance is all sorts of screwed up. When you're on the $29.99 plan, your balance can roll over up to $250. That sounds reasonable. In fact, you stand to lose few minutes at that point. However, when you upgrade to the $44.99 plan, the rollover limit halves, meaning you can only have a balance of $125.
So why wouldn't you just sign up for the $29.99 plan and have a higher rollover limit plus no activation fee? It doesn't include unlimited mobile to mobile, nor does it include any night and weekend minutes. The minutes themselves come out to 15 cents each, well above the prepaid industry norm of 10 cents.
No, this does not make Pick Your Plan any more attractive. In fact, just like the decision to eschew unlimited MEdiaNet, this one probably won't help AT&T sign up more customers in 2009.


One Response
Mitch Says




GoPhone has some of the worst prepaid offerings around when it comes to pricing, but because the prepaid competition on GSM is so poor, they can charge whatever they want and will do just fine.

Now if a carrier on GSM were to start offering text and data bundles (not tied to a voice plan), things would certainly get interesting.


Posted on December 22nd, 2008 at 3:43 pm
Leave a Reply