Poll
Loading ...
New AT&T data plans coming for prepaid
posted by Joe on January 26th, 2009 - 8:30 am | AT&T
It began with the removal of unlimited prepaid data form AT&T's MEdiaNet plan. It's now ended with the abolition of MEdiaNet altogether. AT&T has nixed their fancy-sounding media service in favor of a simpler, more straightforward data program. They've even gone and dropped some of the prices for postpaid customers. Engadget Mobile has a fact sheet on the new plans. There's a prepaid option on there.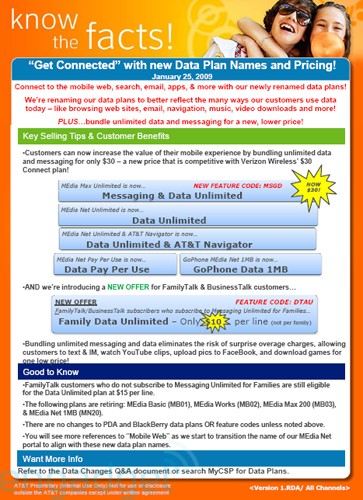 You can see up there that there is a GoPhone Data 1MB plan. Yes, they're selling to prepaid customers in increments of 1 megabyte. Whoop-dee-freakin-doo. This probably means, sadly, that the iPhone can't GoPhone. There is the Pay Per Use option, but that's likely even more expensive than the 1MB plan.
It's sad to think about, really, that only a few months ago AT&T had by far the best prepaid data deal going. Now it's gone, and we're left with low usage limits. Sigh.