Poll
Loading ...
AT&T GoPhone releases Samsung A167
posted by Joe on May 18th, 2009 - 7:30 am | AT&T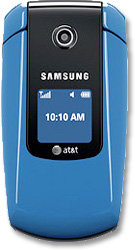 We kick off the week with some device news from AT&T GoPhone. It's not nearly as cool as the Samsung a117, the full-QWERTY device AT&T announced last week. Instead, it's the A167, an entry-level flip phone. Like most phones of its ilk, it features just a VGA camera and Bluetooth. The attractive part about this is the price, $70 without a contract. I wonder if this will show up in retail packs. It seems like the perfect phones: cheap, but with the camera and Bluetooth which might gain attention among other entry-level phones. You can get it at AT&T's website.