Poll
Loading ...
AT&T announces smartphone, new GoPhone data plans
posted by Joe on April 12th, 2011 - 12:44 pm | AT&T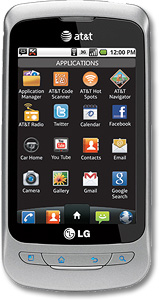 Pictured above is the LG Thrive, an Android smartphone recently announced for release on AT&T GoPhone. It's a standard mid-level Android handset, featuring a 3.2-inch screen, 600MHz processor, WiFi, Android 2.2, and 3G data speeds (up to 7.2Mbps). In addition, AT&T rolled out a new data plan and revised its existing ones. The new one includes 500MB for $25 per month. The old ones are now $5 for 10MB and $15 for 100MB. These plans also get users access to AT&T's WiFi hotspots, which will help cut down on data usage. The Thrive will be available at retail outlets and AT&T's website on April 17th. It will require one of the aforementioned data plans.
Via Phone Scoop.