Poll
Loading ...
Verizon Wireless
May 31st, 2013 | Verizon Wireless | 1 Comment
The strategy became readily apparent last summer when Verizon prepaid began offering a 3G smartphone plan. It was a rudimentary offering at first, overpriced and with few handset selections. Since then it has expanded, and in a year it went from offering 1GB of data for $80 per month to offering 2GB of data for $60 or 4GB for $70. Since LTE services are not offered on prepaid, it appeared that Verizon was aiming to keep its existing 3G CDMA network profitable by populating it with prepaid users, while using LTE for higher-ARPU postpaid customers. Yesterday CFO Fran Shammo confirmed the company's plans. So if you're on Verizon prepaid, don't expect to use an LTE phone any time soon.
Via FierceWireless.

Read the full article →

May 30th, 2013 | Virgin Mobile | 1 Comment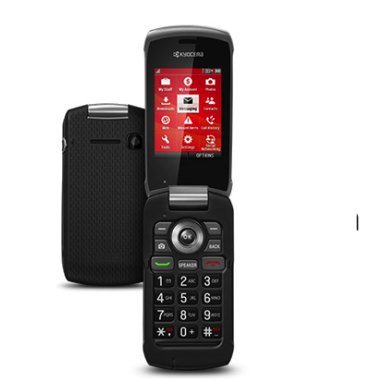 Virgin Mobile has released a new handset for the payLo brand that will prove affordable for almost all users. The Kyocera Kona, which Cricket launched back in April, is a basic flip phone with two color displays and, well, not much more. But at $19.99 it makes for a good temporary phone, or something you can use in a pinch. Virgin does offer payLo service from $20 per month, so you're looking at laying out $260 for a year's worth of service. Not bad, considering that you can't get a decent smartphone, never mind service, for that much on prepaid. You can get the Kyocera Kona at Virgin Mobile's website.

Read the full article →

May 29th, 2013 | AT&T | No Comments
The movement towards prepaid services, even if the majority of wireless subscribers continue using postpaid, is undeniable. If you need proof, just look at everything the major carriers are doing to keep up. Verizon prepaid has continually upgraded data allotments without increasing costs, and has hinted at an off-brand prepaid service. AT&T GoPhone has adapted well with new packages, and will launch its own off-brand service. The latest move comes on the core GoPhone brand, and will allow customers to access HSPA+ and LTE data, as their handsets permit. Yes, that means more open usage of those high-end handsets on GoPhone service.

Read the full article →

May 24th, 2013 | Page Plus | No Comments
One huge reason I hope Tracfone's pending purchase of Page Plus Cellular doesn't cause too many changes at PP: there's always great info to find on the brand via dealers on Howard Forums. The latest comes from Diesel Wireless, who reports that the Unlimited Talk N Text plan, one of Page Plus's flagship plans, will get a bump in data from 200MB to 500MB. That change will take effect sometime next month. He also shares some quotes from "higher ups" that suggest that not much will change in the short term, save for PP having access to a wider range of handsets. Still, I wouldn't expect everything to stay the same in the long run. America Movil is known for tenaciously cutting costs. I don't see why it would be different for PP.
Via Howard Forums.

Read the full article →

May 23rd, 2013 | Cricket | No Comments
It was a big day at CTIA 2014 for Cricket wireless as they announced a few new handsets plus an LTE roaming agreement that could certainly help their stock. For starters they'll launch the Samsung Galaxy S4 on June 7th for $599.99. Thankfully, for those who don't have $600 to burn, they'll have a financing option that will let you walk out of store with the S4 for $59.99. That will increase your monthly payment, of course, but it will cut down on the wallet shock of shelling out that much for a phone. For those who don't want to pay that much, period, for a smartphone, Cricket announced two more affordable Samsung models.

Read the full article →

May 22nd, 2013 | Boost Mobile | 2 Comments
Not to be outdone by Straight Talk, which added the Samsung Galaxy S3 last week, both Boost Mobile and Virgin Mobile will pick up the Samsung's 2012 flagship device. Parent company already has the Galaxy S4, and is offering the S3 for free with a two-year contract. The S3 will go on sale with both Virgin and Boost in June, though the company declined to provide pricing or specific availability date. If they can pull it under the $300 mark, they could attract a number of customers looking for a top-end phone at something of an affordable price.

Read the full article →

May 21st, 2013 | Page Plus | 1 Comment
Delivered by mainstream outlets, the news of Tracfone parent America Movil buying another MVNO looks benign enough. Headlines suggest Movil purchased Start Wireless, which is true. What many people don't know is that Start Wireless owns Page Plus Cellular. That changes the game a bit. Page Plus is a relatively popular MVNO, one that is well known among veteran prepaid subscribers. Something tells me that the Page Plus faithful aren't going to like this acquisition. You can read some initial griping at the Howard Forums thread.

Read the full article →

May 20th, 2013 | Straight Talk | 7 Comments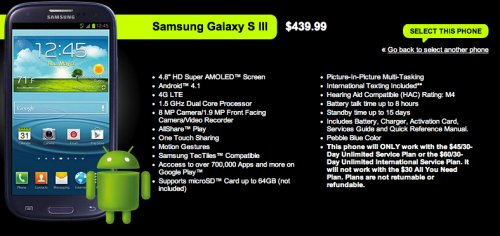 Strange, I saw this on the Straight Talk website last week, but it didn't really click that it was something new. Lo and behold, the Straight Talk blog announced on Friday that they were indeed selling the Samsung Galaxy SIII. We needn't run down the specs for it at this point; nearly every carrier, prepaid and postpaid, carries it at this point. It's actually a great time to get one, since it's getting discounted with the Galaxy S4 about to hit markets nationwide. It will cost you $439.99, which isn't half bad for a non-subsidized phone.

Read the full article →

May 17th, 2013 | Verizon Wireless | 1 Comment
It appears that the nation's largest carrier understands the opportunities in prepaid. For the past year or so Verizon prepaid has made many moves that cater to a prepaid crowd. While their efforts started off as typically overpriced big carrier offerings, they've wizened up and started offering more data and more plans. Their latest move adds even more data to their prepaid smartphone plans. The $60 smartphone plan now gets 2GB of data monthly, up from 500MB. The $70 plan now gets 4GB, up form 2GB. Remember, these smartphone plans work only on 3G EVDO and not Verizon's 4G LTE network. These plans will be available to consumers on June 6th.
Via FierceWireless.

Read the full article →

May 16th, 2013 | MetroPCS | No Comments
While the fundamental services offered by T-Mobile and MetroPCS won't change any time soon, MetroPCS will realize one enormous benefit following the merger. They will cover 100 million additional potential customers by the end of 2014, starting "very quickly" according to T-Mobile CFO Braxton Carter, who previously held the same position with MetroPCS. For a carrier that exists only in select markets across the country, expansion of this magnitude could bring enormous gains. As long as they don't come at the expense of T-Mobile customers, it could be a big, and underreported, win in this merger.
Via FierceWireless.

Read the full article →